As we're approaching the end of another year, it's time to reward your staff with the much anticipated end of year Christmas party. A time to celebrate the entire year with your valued colleagues at one of the most prestigious Christmas Party venues in Melbourne, Masque Bar!
Your team has worked tirelessly over the past year, many long days and long hours from your dedicated staff members which call upon a well deserved break. This is an opportunity for you to demonstrate your discerning taste and make the perfect Christmas function that will have everyone bonding together and talking about the good times right into the new year!

We're here to help so you don't have to worry about a thing

For the past decade, we've helped dozens of businesses reward their employees with an unforgettable experience; a throwback to the Carnival of Venice, of which Masque Bar is themed. Christmas is a great time for the business and its employees to relax, remove social barriers and build a stronger team. The resonating theme of the carnival of Venice where all attendees are equal serves to achieve this. For this reason, Masque Bar provides a unique Christmas Party venue in Melbourne.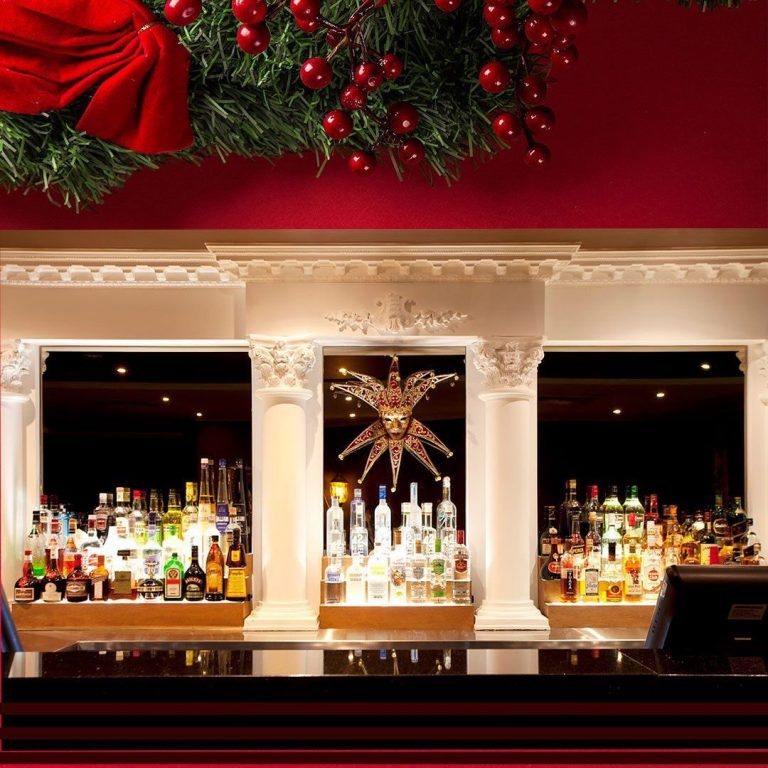 DJ Booth, sound & lighting, projector and screen, microphone for speeches, security and catering all included!

We're able to help you facilitate a great Christmas corporate function by providing you with state of the art sound systems, a generous space, and delicious gourmet finger foods, security guard, projector and screen, microphone for speeches, as well as an amazing range of drinks from our cocktail bar. Imagine a smooth mix of music in the background setting the right vibe, or a professional DJ mixing up the tunes. Masque Bar is incredibly versatile and offers you the ability to customise your Christmas function.
( CLICK AN IMAGE ABOVE TO ENLARGE )
We

offer free venue hire, with the option of a per head spend or a minimum spend on food and alcohol . . .
The best part of this corporate venue hire? Is that it's free. You have the option of choosing from a per head spend or minimum spend on food and alcohol, but everything mentioned above is also included. We have a range of hot and cold canapés with a wide mix of recipes to suit even those who are gluten intolerant or vegan. Our house drinks include wine, spirits, cocktails and beer. Upon a venue inspection, you'll find our menu caters for every taste.
The perfect location right in the heart of South Melbourne, and close to Melbourne CBD
Outside, you'll find our venue well placed; it is close to public transport with the domain interchange on St Kilda Road only a stone's throw from our door on Park Street. For those who intend to drive, there is free parking available from Fridays at 6pm to Mondays at 8am every week of the year. Entry is exclusive to the guest list; our head of security guarantees this so you can be sure there will be no uninvited people.
Additionally, we bring highly experienced waiters, bartenders and managers, and we even have a dedicated coordinator to help you plan the perfect Christmas party. There's only one chance at a great Christmas party for the year, and we offer experts that will coordinate the entire experience and make it irresistibly simple. When you do conclude the party, our venue is only 5 minutes away from the Crown Casino, Fitzroy Street in St Kilda, and Chapel Street in South Yarra, if you want the party to go on.

Celebrate your end of year function at the most

unique Christmas party venue in Melbourne



There are many Christmas function venues in Melbourne and many corporate function venues but there is only one iconic venue with the culminating mix of everything you need. That is, Masque Bar. We have an experienced team of professionals who can ensure that you and your colleagues are entertained with a great atmosphere, mouth watering canapés, and great music to make a memorable Christmas function. If you want to celebrate the end of a prosperous year, ready to welcome the incoming year, there is no substitute. There is only Masque Bar so go on and complete the form below to get started.